Title page Site news DeGlucker Download About us Guest book Links



1. Introduction
DeGlucker is a powerful protected mode debugger for debugging real-mode DOS applications. Here is a brief list of its advantages and features:
Works in protected mode, hard to crash
Nice looking and easy to use interface
586 assembler/disassembler
FPU support
Antidebugging tricks handling
Pure assembly coded, very fast and small!
Freeware
You MUST try DeGlucker if you use tools like TurboDebugger, SoftIce, TR, CCD, LTR, and want something more powerful.


2. System requirements
Minimal:
i386-compatible CPU (with or without FPU)
2 megs of RAM
VGA videocard with 256kb of video-RAM
DOS 3.3
"Clean" boot, without EMM-managers or multitaskers
Recommended:
intel Pentium III (dual/triple/...)
4 GB of RAM and few hundreds GBs of HDD
SVGA videocard + 3D accelerator
Food/drinks/cigarettes

3. Screenshots
Few screenshots of DG, click on picture to enlarge it. (Warning! At least 800x600 screen resolution recommended!)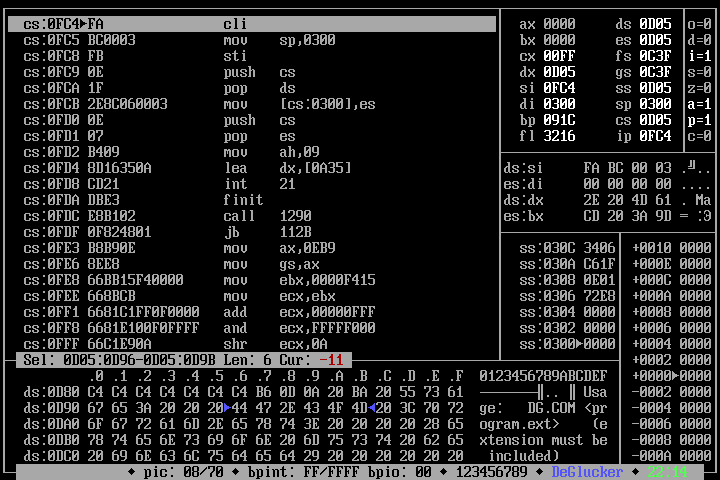 Main DeGlucker's screen.

Now with FPU support.

Need some help? Get it!
4. In the current version
The first public release since DG 0.04r
Tons of new features and bugfixes
Check the Download section for the latest version of DG.


5. In the next versions

32-bit kernel code
New bugs and bugfixes ;)

6. About authors
Sorry, not completed yet now...


0. License
This software is provided "AS IS". The authors will have no liability for special, incidental, or consequential damages arising out of or resulting from the use or modification of this software.



!YOU MAY USE IT ENTIRELY AT YOUR OWN RISK!


DeGlucker is a FREEWARE program. Charging money for it is STRONGLY PROHIBITED!
You mustn't modify the original program's package.

Back to top
All mentioned above programs are trademarks of their respective owners
Web de-sign by VAG, VAGSoft@mail.ru